Oh my...berhabuk dah blog pathetic aku ni.
Dah lama tak update since sibukkkk ya amat dengan study, kerja dan hal2 yang menyedihkan during 2015.
Exam dah habis, Alhamdulillah. Now tengah tunggu result keluar. But still, aku buzy catch up dengan kerja and other activities. Dalam sibuk2 tu, sempat lagi buat research untuk pergi Busan. Eh, kenapa Busan? Bukan kata nak pergi Ho Chi Minh, Kashmir, Beijing, Xian dengan Hong Kong ke? Well well, so sad. Cuti aku tak banyak mana lepas tolak itu, tolak ini. So dalam semua tempat yang aku dah plan tu, aku boleh pergi 1 tempat je tahun ni. Nak pergi Kashmir, banyak preparation nak kena buat, aku dah la masa tak banyak. Nak pergi HCM, lately orang Malaysia kata sana macam dah tak best, especially nak deal dengan Vietnamese yang rude (mostly). So daripada pergi HCM, baik pergi Hanoi (kata mereka). Beijing n Xian pun ambik masa, takkan nak pergi Xian je, tiket mahal tu. Preparation pun lagi banyak daripada nak pergi Kashmir. Hong Kong pulak, tengok keadaan. Tapi yang pastinya, aku dah rindu sangat Korea, dah plan nak 5 hari di Busan. Belum pergi Busan lagi dah demam Busan!
Ok, bukan nak cerita pasal travel.
Tapi nak recommend makan kat 2 tempat ni, in case kalau minat makan Chinese dishes yang halal.
Instead of Haji Shahrin Low dan Abdullah Chan, kali ni aku nak try kat tempat lain pulak.
So before CNY ari tu, macam biasa aku dengan my bff, Law akan makan2 sebelum dia balik raya CNY laa.
At first aku nak bawak dia makan kat Dolly Dim Sum, tapi cumanya kat Dolly tu cuma ada dim sum je, which is susah nak kenyangkan we olls yang masa tu lapar gila dah.
So puas laa aku google, then terjumpa review pasal Restoran De Templer Taman Melati dekat Gombak ni (MRR2 highway).
Satu baris dengan Sate Kajang Hj.Samuri, dan dekat dengan Petronas dan McD tepi highway ni.
Oleh kerana Law adalah sangat cerewet pasal kebersihan kat mana jua dia pergi makan, so aku pun risau jugak kalau restoran De Templer ni tak memenuhi level kebersihan dia tu.
Tapi Alhamdulillah, De Templer tu bersih, dan Law kata toilet pun bersih.
Aku suka De Templer ni sebab deco restoran ni memang Chinese feel.
Daripada meja, alas meja, pinggan mangkuk yang dia guna, semualah.
Dan yang paling best, menu di De Templer adalah memang original Chinese taste.
Dahlaa menu banyak, sedap2 pulak tu.
Aku dengan Law termenung agak lama bila tengok menu2 dia, like oh my, mana satu nak pilih ni, semua nampak sedap okay.
Kalau kat Haji Shahrin Low, aku rasa menu dia dah macam ala2 Melayu sikit, setakat yang aku makan dekat branch Bukit Antarabangsa, Shah Alam, dekat Danau Kota.
Cuma branch dekat KLCC tu belum cuba lagi.
Abdullah Chan pulak bagi aku, ok laa.
Untuk lunch kali ni, aku biar Law yang pilih. So ini hasilnya ;
Oleh sebab Law yang pilih, so semua pun tak pedas, hahaha.
Yang paling kiri tu ialah Taro dumpling, harga RM5.50.
Ni semua dah cukup buat aku full ok, nasik kena tambah 2 kali sebab Law makan sangat perlahan, maybe dia enjoy the food.
Kam Heong Chic Yam Basket, RM20
Yang ni paling awesome.
First time aku makan dish yang ala2 sarang burung ni.
Sedap pulak tu. Pandai Law pilih.
Ni nama dia Kam Heong Chic Yam Basket.
Dalam "basket" tu adalah ayam dengan daun kari, Kam Heong tu nama masakan untuk ayam tu.
It gives a different taste.
Dan "basket" tu adalah yam yang disalut tepung rangup, Law suka sangat makan ni.
Pecahkan "basket" tu, then makan "basket" tu dengan isi ayam sekali.
Crab Meat bean Curd, RM14 (kiri) Prawn dumpling, RM5.50 (atas)
Dimsum pun kitorang ambik, Law pilih Prawn Dumpling dan Taro dumpling.
Taro dumpling tu aku tak sempat nak makan, sebab perut dah full masa tu.
Aku tanya Law, dia kata sedap. Tapi pelik tengok dia makan tak habis, hahaha.
Dim sum dekat De Templer ni punya laa banyak choice, memang tak tau nak pilih mana satu.
Yang berkuah tu ialah Crab Meat Bean Curd.
Not bad laa rasa dia, tapi yang ni Law suka sangat sampai habis dia makan.
Gravy dia sangat thick, rasa telur pun banyak.
Harga RM14 sepinggan.
Sesame Lotus Cake, RM4.50 (3 biji)
Ok, yang ni aku pilih. Tak sia2 aku pilih dessert ni.
Tengok dari luaran macam, eleh, biasa je ni.
Macam kuih yang jual kat tepi2 jalan tu kan.
Nope, nope. Silap ok.
Ni nama dia Sesame Lotus Cake.
Nama je cake, tapi kuih la.
Bila gigit, rasa rangup sangat, rasa ringan.
Tapi bila dah sampai ke isi, ya ampun, sedapnyaaaaaaa!
Filling dia adalah lotus. Hoih! Teringat2!
Dont judge a kuih by its appearance :P
Total semua sekali kitorang makan hari tu ialah RM68.45 (include gst). Selain menu di atas, kitorang order;
Chinese Tea Pot (lebih kurang RM4)
Nasi satu besen kecik (RM3.20)
Air Pineapple Asam Boi (sedap weyh) (RM4.80)
Ok laa kan harga dia. Aku wonder jugak, kenapa restoan ni tak ramai orang, padahal menu dia not bad. Sangat sesuai untuk yang nak pure Chinese style dan bersih. Servis bagi aku, ok je. Takde laa lambat sangat. Even review customer lain mungkin tak best, tapi bagi aku ok, dan aku decided nak datang lagi untuk cuba menu lain pulak. Mungkin lepas ni nak bawak Man datang sini :)
Anyway, siapa yang nak cari restoran Chinese Muslim, boleh jenguk
kat sini
for more info!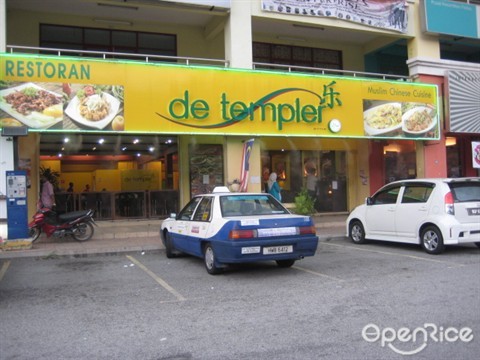 Alamat :
Jalan Melati Utama 2, Melati Utama, 53100 Kuala Lumpur, Wilayah Persekutuan Kuala Lumpur
Phone no :
03-4105 8000